The hybrid stove
Technical ingenuity meets authentic cosiness
For future stove owners, choosing between wood and pellet stove might not be an easy task. Heat at the press of a button or cosy play of flames? The hybrid stove relieves you of this decision and fulfils all your heating desires at once. Plus, in case of emergency (no electricity) you are still able to warm up with wood.*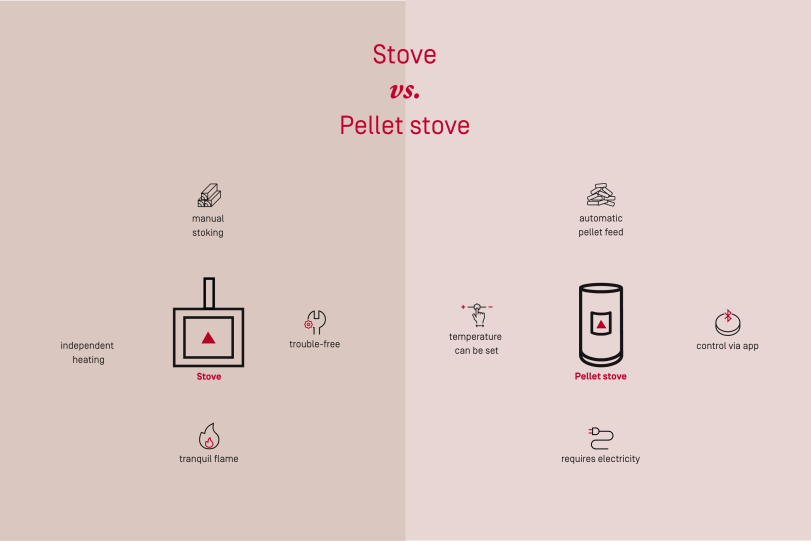 Wood or pellet stove?
Both wood and pellet stoves have their advantages. Thanks to modern technology, the pellet stove is especially user-friendly. Time and target temperature can be precisely pre-set via the press of a button or by app. So a hybrid stove ensures a warm home punctually after work or in the morning when you get up, without having to fire it up. You're also spared stoking up, because thanks to the automatic pellet feed this type of stove constantly maintains the pre-set temperature.
For many people, a cosy and atmospheric play of the flames with the crackle of burning wood and cosy warmth is the definition of cosiness. This is where the classic stove scores. Beyond that, these models can be operated without electricity in case of emergency (no electricity, electrical blackouts, power failures,...).*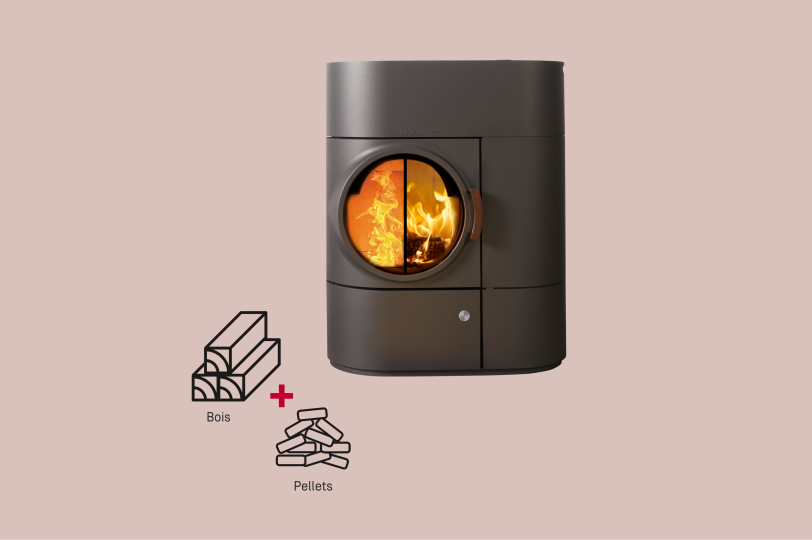 The best of both worlds
For anyone who can't decide between warmth at the push of a button and the calming sight of a wood-burning stove, a hybrid stove is the right thing. The hybrid appliance can be heated both with pellets and with firewood and combines the best of both worlds. The user-friendliness of a pellet stove meets the authentic cosiness of a wood-burning stove.
Owners can not only enjoy the advantages of both heating systems as they like but also use the preferred fuel depending on the market situation. Firing a hybrid stove with wood is easy. Fill in wood and press START. The stove will automatically fire up wood with pellets.
Find out more!
How a hybrid stove works:
Like the pellet stove, the hybrid stove can be started, programmed and controlled through the display or remotely controlled through the dedicated PelletControl app. The stove can be remotely started in pellet mode while you are not home. If at home you want to enjoy the cosy play of flames from burning wood while lying on the couch, you can simply switch to firewood operation by laying the firewood and the appliance immediately recognising the change of fuel. The appliances will use pellets to light the fire. Of course hybrid stoves from Austroflamm can also be used in an emergency (without electricity)* and therefore also offer a crisis-proof and independent option for heating.
* IMPORTANT: for non-electrical operation, a flue draught of at least 12 Pa is required. Use sufficient kindling material when lighting the fire, and when in burning mode, ensure the wood added is of the right dimensions. The performance and overall operation without electricity can not be compared with operation in normal conditions – with electricity.