Heat Memory System
Long-lasting warmth for your home thanks to HMS
Stoves are known and loved for their rapid heat. In order to combine them with long-lasted stored heat as well, Austroflamm has developed a special product: the Heat Memory System.
Want to stoke up less, get the maximum from your fuel and therefore save heating costs? The fireplace system is supposed to quickly emit heat but not overheat the room but evenly give off heat over a long period? Pleasant and healthy long-wave radiant heat is just your thing? Then the Heat Memory System (HMS for short) from Austroflamm is just the right thing for you.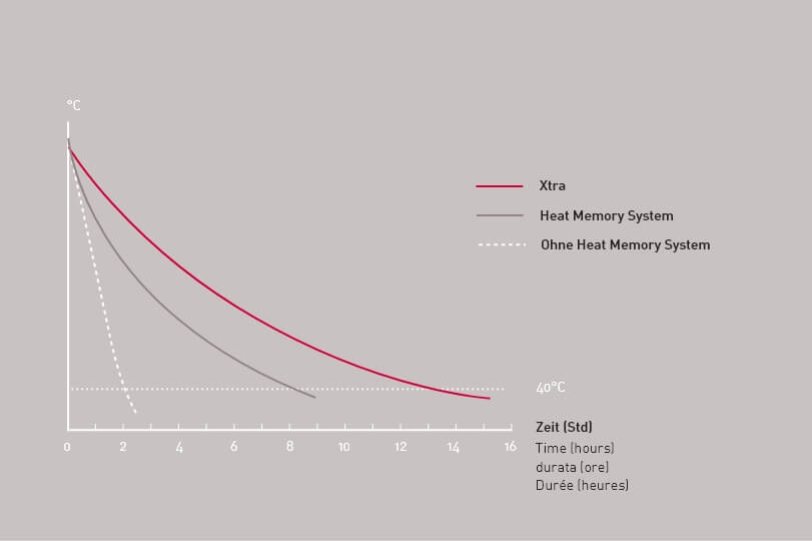 The Heat Memory System
The patented Heat Memory System from Austroflamm combines (depending on the model) up to 8 hours of stored heat with the well-known rapid heating system of a stove. The system developed by us is made up of two components:

Outstanding storage material
The high-density material specially developed for this purpose by Austroflamm quickly absorbs heat, saves it and then slowly and evenly emits it again.

Attachment to the fireplace
Another "secret" of the Heat Memory System's effect is also the attachment: installation as close as possible to the source of the heat ensures optimal storage. As the heat reservoir is attached directly in the stove by Austroflamm, there is the right Heat Memory System for a large part of our products. The type of attachment is also patented.
Health
Radiant heat given off over a long period not only gives a pleasant feeling but is even healthy.
Saving
Stoking up less often also means using less wood. And that of course saves cash.
Even emission of heat
Stored heat means warming up the room quickly but then enjoying the heat instead of heating up further.
Discover Austroflamm products with Heat Memory System.